Free printable Valentine's wine bottle tags. Grab a few bottles of wine & supplies to make these simple, hilarious wine pun Valentines. A fun DIY gift for your Valentine or Galentine's party.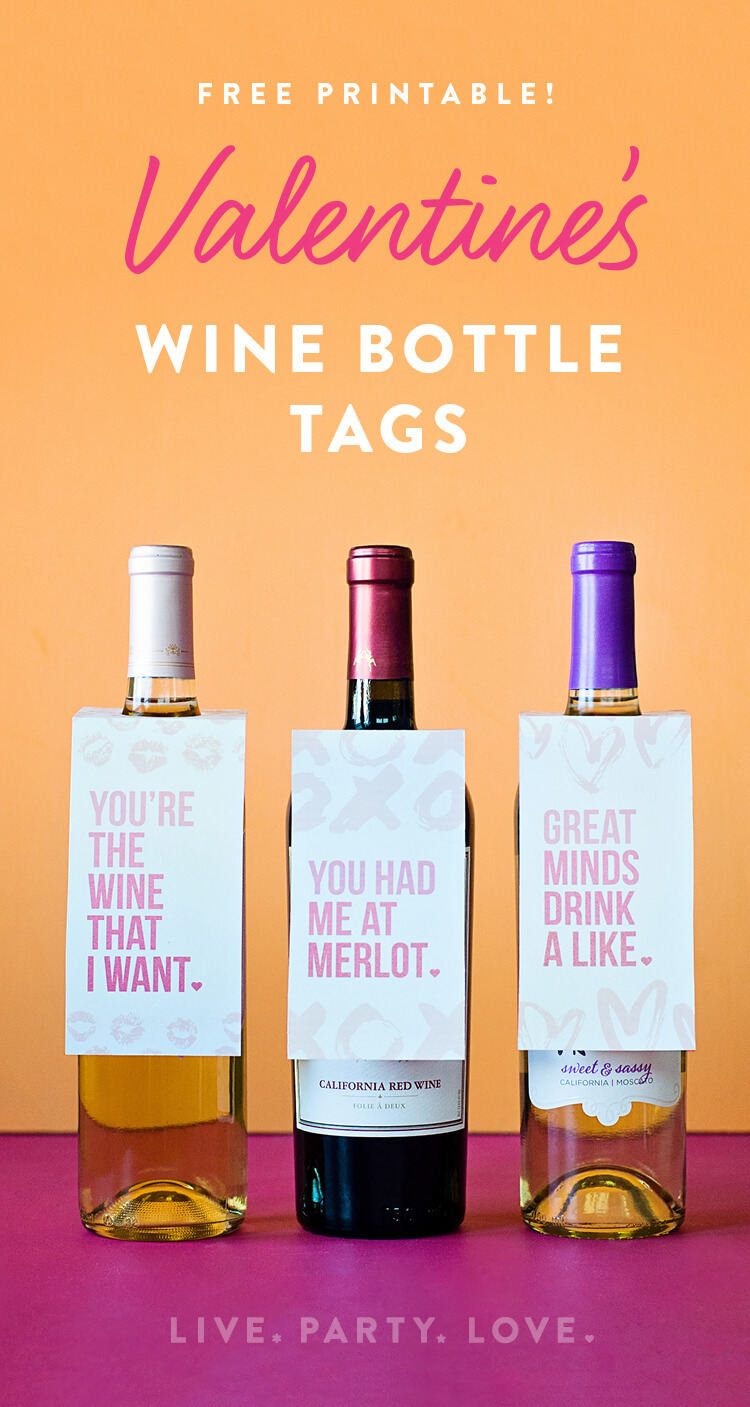 If you have been following along with us on the blog the past several months, you probably know we are 3 sisters and all of us are busy moms. So we love projects that are simple, but also look like they take a lot more effort. This is one of them. 'Ain't nobody' got time for projects that take hours and hours when you have toddlers running around.  Am I right?
Once you have gathered the supplies, this DIY literally takes 30 minutes or less. Awesome. In addition to simple do-it-yourself ideas, we also love wine. Whenever we get together you can bet there is a good bottle of Riesling or Moscato involved. So these wine pun Valentines are right up our alley. And who doesn't love a good pun?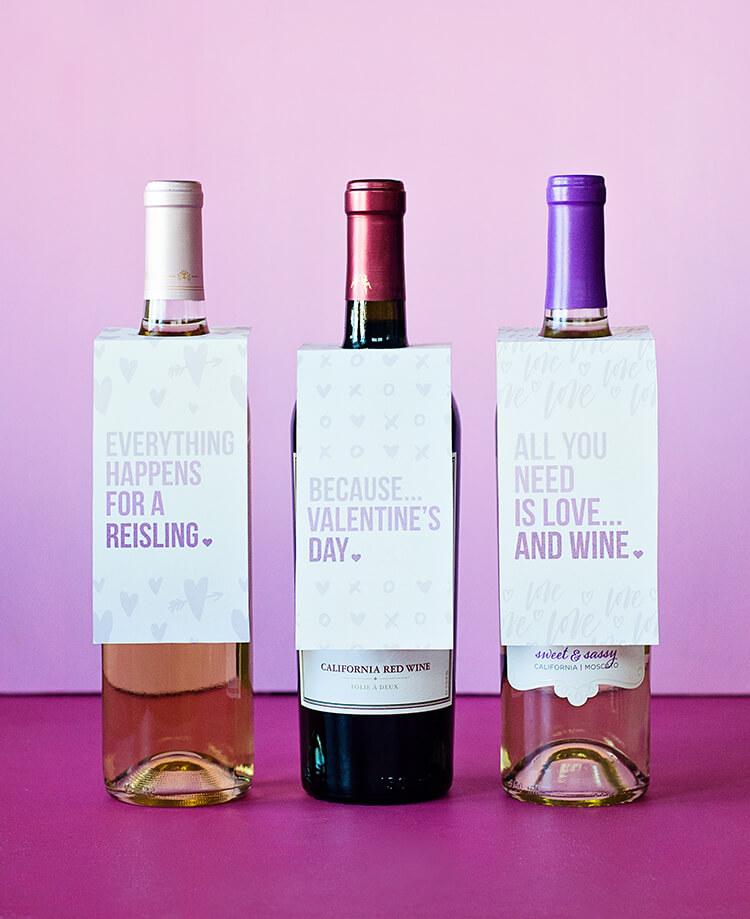 HOW TO MAKE VALENTINE'S WINE BOTTLE TAGS
First, start by downloading the free printable Valentine's wine bottle tags. Each file includes 6 different designs. And 2 files are available 1) all 6 designs in hues of pink and 2) all 6 designs in hues of purple. Click the images below or use the buttons to download.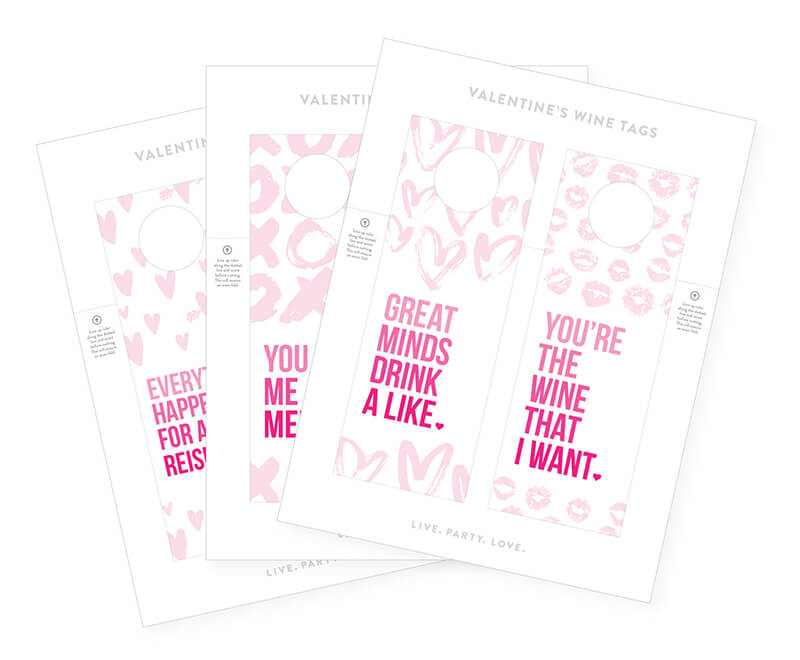 DOWNLOAD VALENTINE'S WINE BOTTLE TAGS IN PINK (PDF)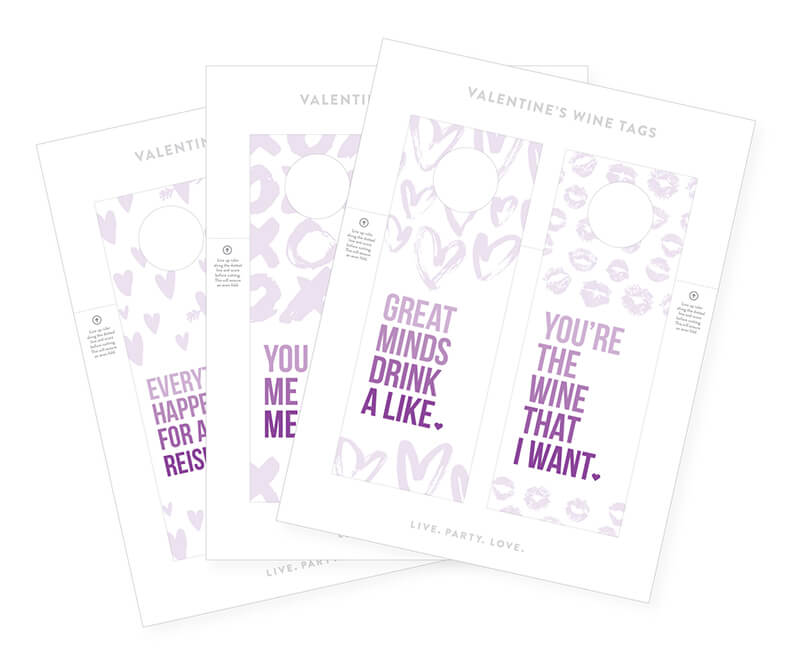 DOWNLOAD VALENTINE'S WINE BOTTLE TAGS IN PURPLE (PDF)
MATERIALS
Printable files (linked above)
Bottles of wine
INSTRUCTIONS
Download the printable file using the link above.
Print the file on card stock. We recommend using pearl card stock for a shimmery finish.
Using a scoring tool (even a non-serrated butter knife will work), score the fold using the dotted lines as guides.
Cut out each tag using a X-Acto knife, cutting mat and straight edge ruler for a straight and smooth cut.
Fold the tag using the scored line from step 3.
Attach the tags to the wine bottles. And merry gifting.
MORE WINE PUNS? DON'T MIND IF WE DO.
And if you didn't get your fill of wine puns, here are a dozen more.
Hey rosé, hello merlot
Stop and smell the rosé
Be m wine
Say you'll be wine
Wine is my Valentine
Friends bring happiness, best friends bring wine
You're a champagne in the butt
Partner in wine
Alcohol you later
There are so many reislings why I love you
Merlot, is it me your looking for?
I want you!…to get me some wine
Aren't these wine bottle tags adorable? Drop us a comment and let us know what you think. Expect to see a ton more printables from us in the future. By the way — you can also view & customize our party invitations + cards here in our shop.