A thoughtful & romantic anniversary gift idea that will memorable for both of you. Customize to fit any budget and lifestyle. Plan as a surprise and then take turns each year doing the planning.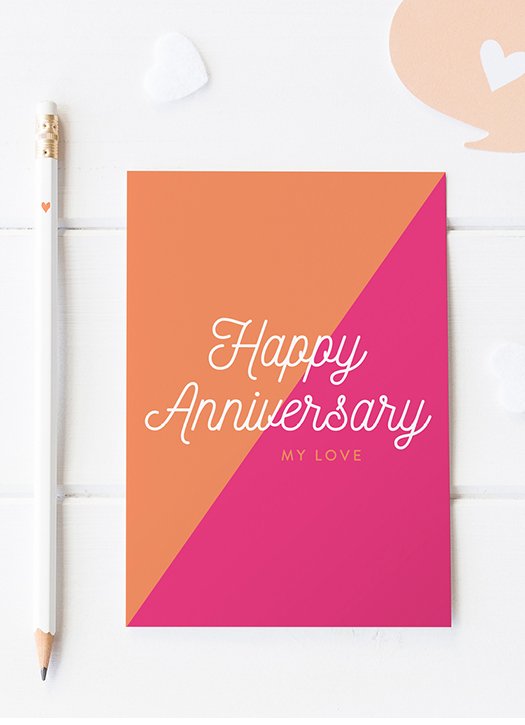 An Epicly Romantic Anniversary Gift Idea
We love, love, love this romantic anniversary gift idea because you can make it as simple or as complicated as you want. It's super customizable based on your interests and budget. And the first year it could be a surprise, while years after you could make it a tradition trading off who does the planning.
The concept is simple. You plan a number of anniversary dates which could be three dates or an entire week's worth of dates. For each date, you will provide one clue card (or date card) a day to a few hours in advance, keeping your significant other guessing what it could be.
You can be as creative as you choose.  And make sure to think about what your wife, husband or partner has had on their "bucket list." Maybe they've been wanting to take a weekend getaway. Or maybe they've wanted to go to the local paint 'n' sip.
The Planning
Plan number of dates
Plan activities for dates
Make any reservations needed
Order/buy any supplies needed
Create Date Cards
Create clue/date cards
On the card, be sure to provide the day, time and clue (see ideas below)
Now for the Fun
Give your first card a day to a few hours ahead of time.
We've given the first card with a greeting card/gift bad on your special day and then explained how many cards are left.
Their guesses will be the best part.
Enjoy the fun and romantic time spent together.
Date Ideas & Clue Suggestions
Here are a few clue suggestions with date ideas to get your creative juices flowing.
Ready, Let's 'Due This! — a fondue night in with games. Cheese fondue appetizers, meat fondue with yummy dipping sauces and chocolate fondue for dessert.
A Check Off the Bucket List — plan a weekend getaway to place they've been wanting to go. It could be a simple road trip or a plane ride away.
Some Cheese With Your Wine —  schedule a night at the local sip 'n' paint. Not painters? That's ok! Enjoy wine and try something new together. It will be entertaining to see how your painting turns out.
Relax, It's Our Anniversary — schedule a couples massage at your favorite spa with champagne & strawberries. Allow enough time to use the sauna & steam room.
10 Years Together Has Been a Wild Ride — rent an ATV or jet ski for a few hours or day of adventure. Cold weather? try a cold weather sport like snowmobiling.
S'More Love Headed Your Way — a night in with the fire pit going, roast hot dogs and s'mores. Try out different flavors of Ghiradelli chocolate in your s'mores.
Our Special Place, Food & Fun — have a picnic at your favorite park or sight seeing spot. Bring a fun board or couples trivia game.
Love Can Be Mysterious — plan a murder mystery night (or find one to attend through local events) with friends. Not sure where to start? Check out a Murder Mystery kit.
A Blast from the Past — recreate your first date together. Go to the same or similar restaurant for dinner and drinks. Do the same activities whether it be take a drive, movies or bowling.
A Trip Down Memory Lane — grab some wine, appetizers and break out your wedding photos and video. Make or buy a cake similar to your wedding cake for dessert.
Let's Act Like Kids Again — arrange an adult scavenger hunt. Ten things you both must find or do on a night out. Find a certain flavor of craft beer, grab dinner from a food truck, play a round of pool.
Well, This Was A First — plan a movie night in with the first movie you ever watched together. Don't forget the soda, candy and popcorn. Or use the theme of the movie to plan the food and drinks.
Let's Have a Latte Fun — find a local coffee shop that is open late. Drink lattes, grab dessert and play board games. Or even better play couples trivia games to better connect with each other.

To Love is to Trust — plan something that is out of your comfort zone, but something you both have been wanting to do for a long time. Zipline, take a dance class together, parasailing or karaoke. 

You Spin Me Round (Like a Record) — plan a themed night. Play 80s music, grab nostalgic candy and go roller skating. Dress up in 80s gear if you're feeling it.

There are so many great things you can do with this idea, but it really depends on what your interests are. If you end up using this idea, we want to hear about it in the comments! Or even better show us on Instagram by tagging @livepartylove or #livepartylove.